Industry News and Links
Following are links to articles related to the Cheese Industry....we hope you find them interesting. Please feel free to contact a committee member for more information or if you have any questions.
Judging the ADGA Competition
Original article was published online at Soap Queen
The Official Blog of Brambleberry
My friend and amazing soapmaker Kathryn Hackney shares her experience judging the American Dairy Goat Convention Competition in Boise, ID this past October. She also includes some tips from the judges at the end of the post. Enjoy! -Anne-Marie PS – Longtime readers may remember previous posts (here, here, here and here) about the ADGA convention and judging. I'm still dreaming about their (goat) cheese tables!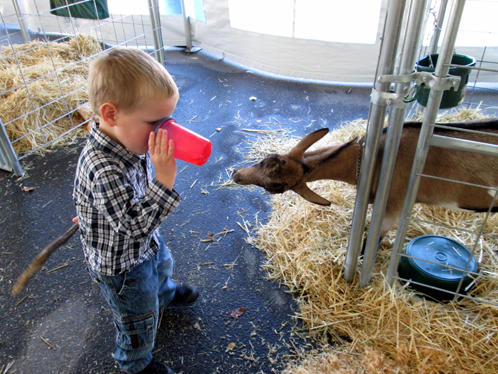 I flew into Boise and did two full days of judging on Tuesday and Wednesday, and flew out on Thursday morning. However, the convention is HUGE. It goes from October 13th through the 20th. There was even a tent full of goats in the parking lot (had to check it out!), which were auctioned off inside the hotel on Friday. The people in this association are warm and kind, very much like the participants at soap conventions I've attended. Silvia from SV Indulgence Soap was also judging, and we got along so well, laughing about who's turn it was to lick the soap next for the alkali test. Judging for a body product is like repeatedly performing spa treatments on yourself all day, and obsessively washing and lathering up. There were lots of "ooo's and aaaah's" and giggles. All of the products had to contain goat milk, and we tested everything from cold process bar soap, to lotion, to bath fizzies. Our very favorite product of the entire room was a scrub, surprisingly. When you don't want to stop using it, you know it's a winner. There was also a new category this year called "Creative", which featured entries with gorgeous swirls and darling packaging. The "Miscellaneous" category was also fun to test, as we had a dog shampoo bar, poison ivy treatment soap, psoriasis cream, and liquid soap among others.
The amount of entries was small in comparison to other years, so pass on the word! If you make products with goat milk, you should be entering in this fun event. A couple of tips from the judges:
1) We would love to see more packaging! We are looking for the complete look and ingredients listed is helpful for us to provide feedback. Plus, packaging is important in this event because it sets your product apart from the rest. You can include everything except your personal information.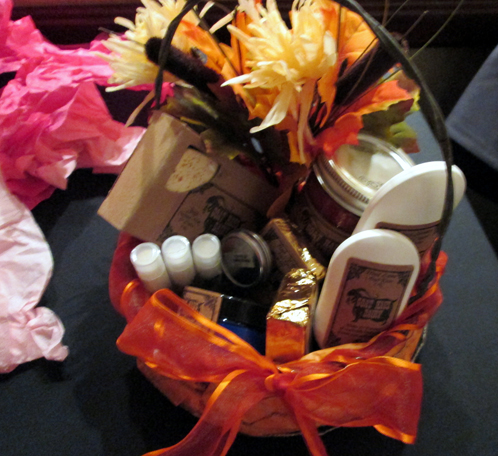 2) When using goat milk in your product, be very patient when incorporating it and use iced milk as not to scald or burn it. A creamy white product is very impressive!
3) The bars with color caught our eye!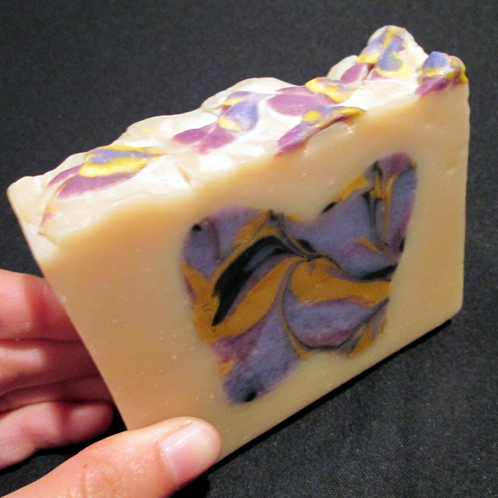 4) Keep the presentation clean. We were really drawn to soap that was cut straight, beveled, and had that little extra effort added.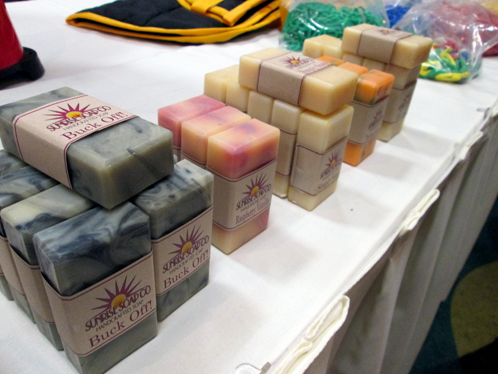 5) Test it first. We lather up each bar of soap and look for foam stability and big, lasting bubbles. Does it wash off well and leave your hands silky smooth, or is their a little too much oil in your recipe? Make your own little competition in your home and have friends and family test them out. You'll get ahead by refining your recipe in advance.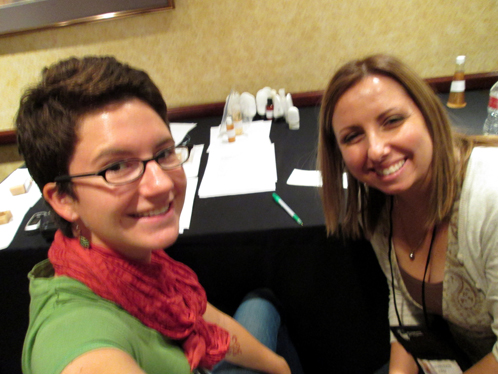 If you or anyone you know makes goat milk products, let them in on this fun opportunity to strut their stuff.Plus, there are numerous classes on all things goat, including cheese making and healing with aromatherapy if you go to the convention. You do not have to be present at the convention to enter your soap so consider this for 2013.
2014 Breeders in the News
Allison Hooper '81 (left) and Bob Reese founded Vermont Creamery with a commitment to sustainability, and their high-quality dairy products have received awards across the globe.


What began as a trip to France for Allison Hooper '81 as a College student transformed into a lifelong passion for dairy farming and the cofounding of Vermont Creamery, one of the premier dairies in America and the winner of more than 100 national and international awards.
Located in Websterville, Vt., the creamery sends its high-quality goat and cow milk products everywhere from farmers markets to acclaimed French chefs.
Hooper helped start the company just three years after graduation from Connecticut College, but her foray into cheese-making began during her junior year. Studying French in Paris, Hooper decided to extend her stay into her senior year to further immerse herself in the culture. The only problem: finding a place to stay for the summer while school was out of session.
Stuck in a foreign country with no immediate plan, she accepted an offer to live on a family-owned dairy farm in the Brittany region of France. It was there, immersed with French-speaking locals, that she developed her language skills — but also an ability to make cheese.
"It wasn't intentional," Hooper says. "I certainly didn't have cheese-making in mind when I went abroad."
A few years later, however, those skills came into good use. Working at a dairy lab in rural Vermont in 1984, Hooper was contacted by Bob Reese, who was planning a dinner event using local agricultural products but had no locally made cheese. In short order, Hooper whipped up some chèvre from scratch and saved the day.
From that moment, the idea of Vermont Creamery was born. With only $1,200, Reese and Hooper quit their jobs and began operations out of a converted milk house 30 years ago. "Not having something to fall back on really forced us to push hard for success," Hooper said.
What set the company apart from the beginning was its focus on artisanal cheese that used natural, farm-to-table ingredients. Hooper said Americans weren't really consuming products like goat cheese, and the company was part of a movement that has now taken over the food industry.
"It was a very big challenge, especially for a 25-year-old woman, to establish goat dairying as legitimate farming in those early days," she says.
Getting in at the start of the natural foods trend allowed Hooper to cultivate her business's brand. One of the driving principles behind the creamery's mission has been sustainability. To Hooper, this means thinking globally and acting locally; Vermont Creamery is B Corp-certified, a qualification that is to sustainable business what Fair Trade is to coffee. Companies with this certification must meet high standards of social and environmental performance, accountability and transparency. Other B Corp participants include Ben & Jerry's, Etsy and Patagonia.
Vermont Creamery is also home to the largest rooftop solar system in Vermont, and is looking for new ways to reduce its carbon footprint. "In the future, we'd like to invest in converting our waste into energy that would power our creamery," Hooper says.
And through a new collaboration with the Evergreen Conservative Partnership, Hooper has established a model commercial goat dairy, a project aimed at introducing potential and established farmers to goat dairying.
With a résumé that includes a wide array of skills, from goat milking to business management, Hooper points to her College education as an essential part of her professional and personal development.
"I believe a liberal arts education teaches you how to think. It teaches you how to solve problems and how to relate to all kinds of people," she said. Hooper adds that her French skills have also come in handy when working with world-class chefs and restaurateurs, as speaking their language gives her more credibility.
Oh, and the cheese? Hooper does have a favorite. "I love comté. It's nicknamed 'King of Cheese,' and symbolizes traditional methods and community."
It's a fitting choice for a woman who took an untraditional path to create a thriving business with a social conscience.
- Sophia Mitrokostas '15


Awards and Honors:
Another Cheese Win for Split Creek Farm
In February, we crossed our fingers. hoped for the best, and entered our feta cheese in the 2010 World Championship Cheese Contest held in Madison, Wisconsin. In March, we were notified that we had won a Gold Medal in our class! This year's contest had the highest number of cheese and butter entries ever judged in this contest - over 2300 entries divided into 79 classes. Twenty nations were represented in the contest. Split Creek Farm feta in oil won gold over several European cheese makers.
Evin Evans, owner of Split Creek says, "We've known our cheese is wonderful, but it is nice to have this type of affirmation from international judges. We are thrilled to be able to offer our winning cheeses to our community at a time when customers are seeking local foods".
Other winners in the goat cheese categories are as follows:

Soft Goat's Milk Cheeses
| | | | | | | |
| --- | --- | --- | --- | --- | --- | --- |
| Adeline Druart and Team | Vermont Butter & Cheese Creamery | Websterville, VT | USA | 99.35 | Best of Class | Fresh crottin |
| Ray Smith and Team | Vermont Butter & Cheese Creamery | Websterville, VT | USA | 989 | Second Award | Chevre classic |
| Juani Reoli | Central Quesera Montesinos, S.L. | Jumilla, Murcia | Spain | 98.7 | Third Award | Capricho de Cabra Natural |
Flavored Soft Goat's Milk Cheeses
| | | | | | | |
| --- | --- | --- | --- | --- | --- | --- |
| Evin Evans | Splilt Creek Farm, LLC | Anderson, SC | USA | 99.2 | Best of Class | Split Creek Farm Farmstead Goat Feta |
| Miquel Vives Vinyals | Quesos De Cati | Cati, Castellon | Spain | 99.1 | Second Award | Cati Panoleta rosemary |
| Jose Rojas | Central Quesera Montesinos, S.L. | Jumilla, Murcia | Spain | 99 | Third Award | Cabra al Romero |
Hard Goat's Milk Cheeses
| | | | | | | |
| --- | --- | --- | --- | --- | --- | --- |
| Cypress Grove Chevre | Cypress Grove Chevre | Arcata, CA | USA | 99.15 | Best of Class | Midnight Moon |
| Team Dronrijp | Friesland Campina Cheese | Wolvega, Friesland | Netherlands | 98.95 | Second Award | Frans Hals goat |
| Team Tumalo | Tumalo Farms | Bend, OR | USA | 98.7 | Third Award | Classico |
For more information on the competition please go to the World Champion Cheese Competition website
Cheese Publications:
Check out the new cheese magazine "Culture"
Goat Cheese Info:
http://www.thenibble.com/reviews/main/cheese/cheese2/whey/2005-11.asp
http://www.monkeydish.com/2008021623347/ingredients/goat-cheese.html